Aliso Canyon Methane Gas Well Blowout FLIR Video Over Porter Ranch
December 11, 2015
Yet another shocking video of the Aliso Canyon gas well blowout highlights the continuing dangers residents face. The footage captured on December 8, 2015 by a cutting edge FLIR GF320 infrared camera, shows an invisible cloud of methane gas choking the California community of Porter Ranch.
The video was taken in a continuous sweeping motion, as evidenced by the time stamp, and switches back and forth between its standard camera mode to its specialized infrared mode. The change from standard viewing to infrared mode gives a stark visual of the gas cloud smothering the community, all but invisible to the naked eye.
Now, several weeks into the gas well blowout, Southern Californa Gas Co. (SoCalGas) has confirmed what many experts and local residents had feared; that the blowout may not be contained for months, and perhaps longer.
This new video, taken from inside Porter Ranch itself, shows the gas flowing down the mountain towards the community. As the gas cloud descends the mountain, it lingers around residences. The map below gives an additional perspective to the video and the pathway of the gas.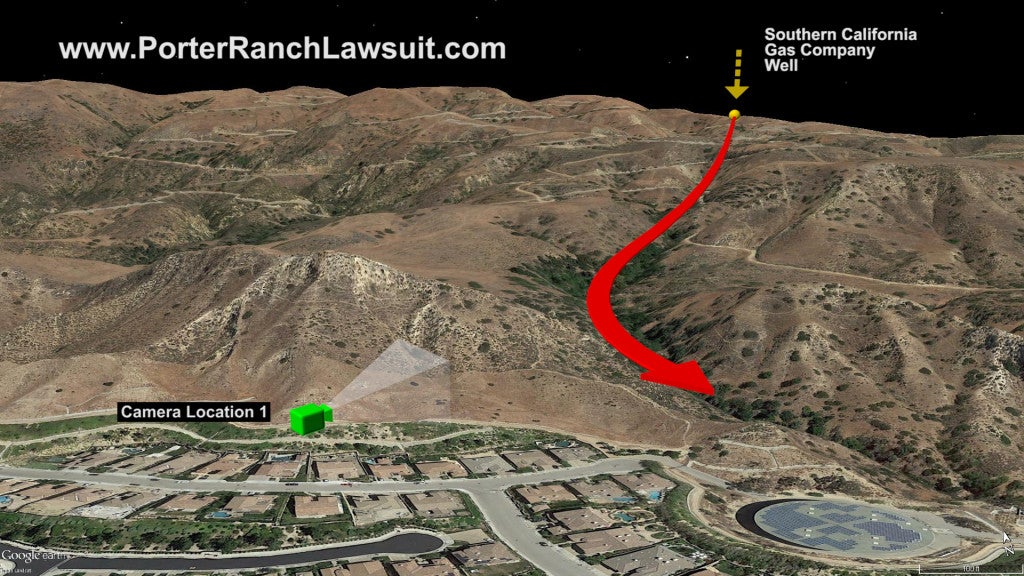 As crews work around-the-clock to try and get the crisis under control, local residents remain frustrated about the situation. Over 850 families have already voluntarily relocated from Porter Ranch, with over 1000 more seeking relocation assistance from SoCalGas.
Local parents are now calling on the Los Angeles Unified School District to relocate local schools in order to protect the health and safety of their kids. A Change.org petition is now circulating to convince the school board that the action is necessary.
Further adding to the state of agitation, the California Division of Oil, Gas & Geothermal Resources released a second emergency order to SoCalGas. The order expanding on the agency's Nov. 18 order, is requiring additional testing and well data, daily briefings, and a schedule for identified pathways to seal the well.
Since the discovery of the blowout at the Aliso Canyon facility on October, 23, 2015, residents have reported a number of detrimental side effects. Residents report suffering from vomiting, dizziness, nausea, nosebleeds, and headaches. These side effects are the result of exposure to an additive to the gas, mercaptans, used to give the odorless methane a detectable smell.