The Answers You Need Before Moving Back To Porter Ranch
February 10, 2016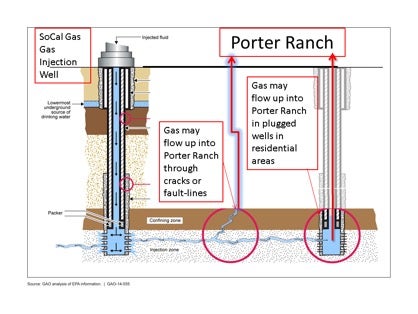 Attorney Patricia Oliver of R. Rex Parris law firm has written a letter to City Attorney Mike Feuer on behalf of Save Porter Ranch and thousands of Porter Ranch residents. In her letter, Oliver asks Feuer to live up to his statements regarding his desire to see Porter Ranch residents return to a safe home and to take the actions necessary to ensure important concerns are addressed. Oliver's main concern is the extent of underground gas migration and its possible damage to public health. She urges that transparency and public discussion are needed in order to restore public trust.
Oliver is committed to protecting the health of Porter Ranch residents, and has continuously asked the tough questions getting overlooked in coverage of the Aliso Canyon crisis and mitigated by those interested in assuring residents the costs of the blowout are low. Citing missing public data from SoCalGas and the Division of Oil, Gas & Geothermal Resources (DOGGR), her letter explains these key questions that need to be answered before it can be considered safe for residents to go back home:
1. Porter Ranch has "Methane Buffer Zones," and The Soil Should Be Tested
For public safety, the city of LA created Methane Buffer Zones to determine potential underground fire hazards. The soil in Methane Buffer Zones needs to be tested in order to determine whether there is a potential for methane to migrate into buildings and ignite.
Oliver asks: Why is SoCalGas withholding test results (or why has SoCalGas not taken soil tests)?
2. Migration from Gas Injection Wells is Always A Risk
SoCalGas has 91 injection wells in Aliso Canyon. Because of the great pressure necessary for injection wells to function, all injection wells carry the risk of migration of underground gas; that is, the seeping of the gas into surrounding areas like old wells or the Porter Ranch neighborhood.
Oliver asks: How far did the gas travel underground during the blowout in well SS-25?
Proof of Misconduct
A 2011 audit by the Environmental Protection Agency determined DOGGR issued injection permits illegally.  The EPA concluded DOGGR was not determining how far injected fluids or gas would travel before issuing permits to inject underground. The EPA conducted the audit because it was worried about water contamination as a result of the migration of injected fluids.
Using an image the federal government made analyzing EPA data about injection wells, Oliver created the cross-section above to show how the gas may migrate from SoCalGas injection wells to (1) cracks or faults like the Santa Susana Fault; and (2) old wells like those in the methane buffer zones in the residential areas in Porter Ranch.
Oliver's letter also calls into question DOGGR's neutrality and provides evidence of a possible conflict of interest, as well as highlights the fact that DOGGR has granted permits without proper engineering studies, and allowed SoCalGas to continue operating even though the company submitted misleading, if not fraudulent, test results. For example, SoCalGas submitted a casing diagram to DOGGR each year with a "SSSV" to indicate subsurface safety valves where they were not, in fact, in place.
Steps Needed for Public Trust
The letter ends with a list of three steps needed to return public trust:
That the concerns raised in the letter must be addressed with a public discussion of where gas is migrating underground.
That all stakeholders, including Save Porter Ranch and The County Department of Public Health, be invited to address the relocation and return of Porter Ranch residents and restore public trust.
That the city address the lack of transparency in air testing and the migration of the plume of contaminants from the blown-out well into the San Fernando Valley.
To read the letter in its entirety, which details the evidence uncovered by Oliver, click here.