Attorney Patricia Oliver Demands Accountability from SoCalGas and AMQD
January 21, 2016
In a letter to the AQMD on behalf of Porter Ranch Residents and Save Porter Ranch, Patricia Oliver from R. Rex Parris law firm outlined a series of complaints on how the case against SoCalGas is being handled.
Oliver's formal written objection claims the gas utility has been withholding fundamental information about the extent of the environmental damage caused by well SS 25 and raises the question as to why AQMD has not held SoCalGas to a higher standard of accountability. For example, no photos or evidence have been provided to the public on 16 of SoCalGas's wells inspected by the AQMD.  Although SoCalGas claims it cannot calculate the amount of gas released as a result of the well blowout, Oliver points out that sonic technology exists that is capable of making that determination.
The letter calls attention to several inconsistencies between the story SoCalGas is telling the public and the actual evidence. Additionally, it points out the inherent conflict in SoCalGas paying for a third party investigation, the unconstitutionality of AQMD's Proposed Findings, and the company's failure to heed DOGGR's order that they cease all underground injections.
Above all, the letter stresses that SoCalGas should not be self-policing in the aftermath of its negligence, and that residents need to be given notice of any hearing or changes in the proposed order.
This letter is just one example of the efforts undertaken by our attorneys to assure that the residents of Porter Ranch and the surrounding areas affected by SoCalGas's negligence obtain justice.
Read the written objection in its entirety here.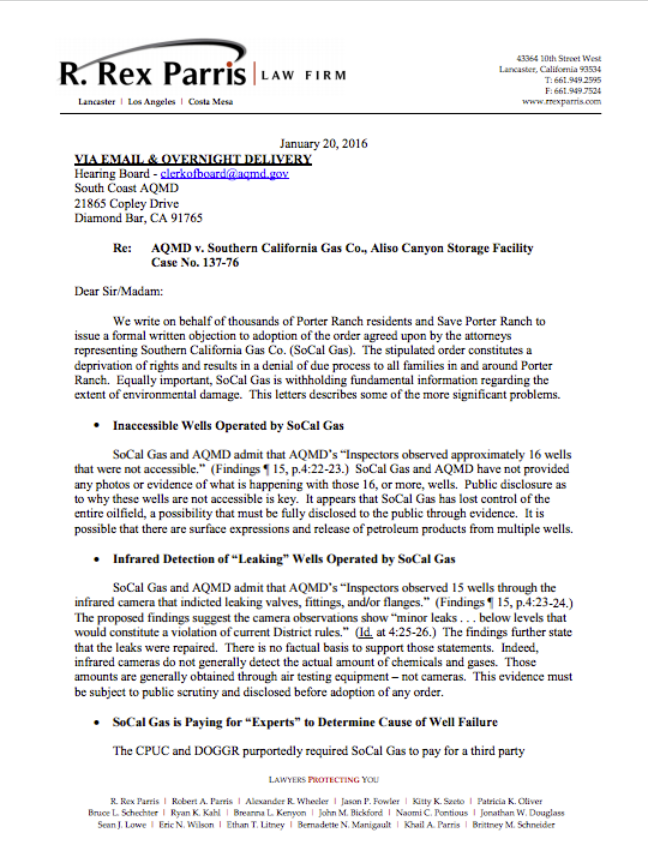 Robert F. Kennedy Jr. Reveals Why the Disaster Happened