Attorney Patricia Oliver Urges SoCalGas to do More Research Before Residents Return Home
February 08, 2016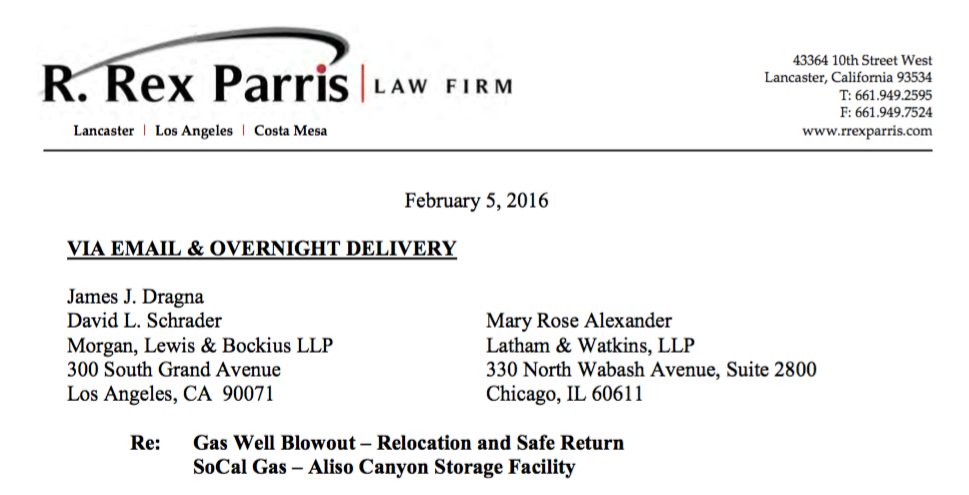 In a six-page letter sent along to lawyers representing Southern California Gas Company (SoCalGas), Attorney Patricia K. Oliver wrote on behalf of thousands of Porter Ranch residents and Save Porter Ranch to request formally that SoCalGas make public all steps and tests purportedly done to protect the community.
SoCalGas reported this week that it was in the "final phase to control and stop Aliso Canyon Gas Leak." SoCalGas further reported that it would announce when "relocation assistance program will come to an end."
Initially the gas company hoped to end the program 48 hours after the well was sealed and regulators checked it. However, Ms. Oliver drafted a letter in response to this announcement urging the gas company to reconsider its decision until all the data could be deciphered.
The letter outlined four major grievances that it urged SoCalGas to address before terminating its relocation assistance program.
The first issue the letter asked SoCalGas to consider revolved around air testing. SoCalGas has not shared all the data it has collected from the well, and has not allowed any private parties on the property. This has led to gaps in the data that make it difficult to determine how safe the air actually is before residents return home.
Another unknown the letter hopes to have illuminated is the subsurface migration of natural gas. The definition of a blowout means there is an uncontrolled flow of gas into the air and/or underground. The data disclosed by SoCalGas has offered insight into the possible contamination of the air, but no research has been published on what is happening underground. The letter asks that SoCalGas meet with experts to determine what is going on underground before anyone is asked to move home.
The third issue the letter takes up regards subsurface safety valves. The safety mechanism that could have prevented the Porter Ranch environmental disaster all together should be in place on all the wells located in the Aliso Canyon facility. Until this can be confirmed, residents cannot be sure that something like this won't happen again, and that is not something people who've gone through a disaster of this magnitude should have to live with going forward.
The final concerns of the letter are about the oily mist that has shown up on people's property, and the general impact the leak has caused on the surrounding environment. The oily mist is particularly worrisome, as it has gotten into people's homes, pools, gardens, and outdoor bodies of water. Some members of the community are vulnerable either because of their age or health condition and they should not have to return to a place that puts them at further risk.
Since SoCalGas's plan to end its relocation assistance program was announced last week it has taken a lot of heat for giving residents such a small window to return home. They have since backed off that requirement, but have issued no new timeline for relocation. If SoCalGas takes the grievances outlined in this letter seriously, that might not be for a long time.
You can read the entire letter as well as a 65-page document detailing the issues here: Letter to SoCalGas Regarding 48 Hour Relocation Notice.