Gas Well Blowout May Endanger Your Pet
December 16, 2015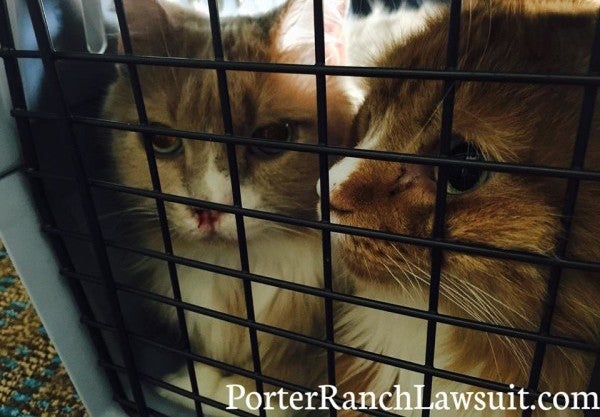 Thousands of Porter Ranch residents are currently struggling with the harmful effects of the Aliso Canyon gas well blowout. Parents are taking their children out of school for fear of their health. Families are packing up and relocating away from their homes. Those who are pet owners also have to contend with the gas's unique effect on small animals.
Experts have stated that the gas emitted in the blowout contains mostly methane. Methane is an odorless, flammable gas that is a major source of fuel. The gas also contains mercaptans, which is added for its pungent scent so leaks can be detected. Mercaptans have been reported to cause a variety of short term illnesses in humans.
While methane is a non-toxic gas, it can be dangerous in large quantities. It can also be lethal if combined with other gases. According to researcher Andrea Silverthorne, methane gas can oxidize in the atmosphere to form a transitory toxic substance called methanol, which can turn into formaldehyde. Formaldehyde can cause hypothermia, asphyxiation, and acidosis in small animals like birds, fish, and bats. Acidosis is a condition in which your body starts to digest itself.
High levels of methane gas may pose the same threats to small household pets who breathe in methane, and the toxic gases created by it, for a prolonged period of time. In order to reduce the chance of your pet suffering from an illness, or dying, it's important to take every precautionary measure possible to keep them safe.
Be on the Lookout 
Most of the time, the symptoms of asphyxiation can go unnoticed – for example dizziness or headaches. These are signals that the body is struggling to receive the right amount of oxygen, which is extremely dangerous as lack of oxygen causes death.
Make sure that you watch your pets closely for any signs of abnormal behavior. For example, keep an eye out for the way your pet moves or if your pet is showing signs of moodiness. This may be indicative of dizziness or headaches.  Make sure to feed your pet as normal. 
Relocate Your Animals
If your family is being moved to a hotel, make sure that your pet is allowed to live in the hotel as well. If not, find means of temporary housing that can be paid for by Southern California Gas Co. Ensure that the place you are relocating to will be hospitable for pets and that your pet has all the necessities required to live a healthy life.
Find the Closest Veterinarian 
In case of emergencies, keep the contact information of the closest veterinarian to you and be aware of their hours of operation and what emergency services they provide. Do not hesitate to take your pet to the hospital if you notice any abnormal behavior or signs of distress. You may be wasting precious time that could save your pet's life.
Keep All of Your Receipts
 In the event of a pet emergency, it's important to keep every bill or receipt of the expenditures you incur. Documenting your expenditures is important as they may be useful to you when you seek legal action.
Pets are an integral part of many families and their deaths can deeply affect both children and adults. Make sure you take all the measures you can in order to prevent the untimely death of a loved pet.