Porter Ranch Neighborhood Council Meets with Governor Brown
January 05, 2016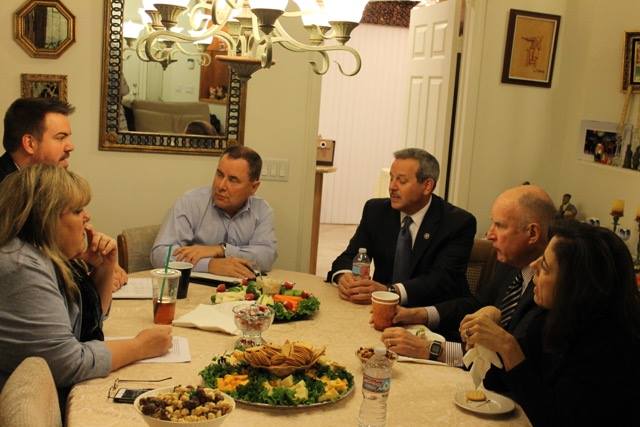 Porter Ranch, CA – January 4, 2016 – Governor Brown met this evening with members of Porter Ranch Neighborhood Council (PRNC) to hear firsthand how the SoCal Gas Leak has been affecting the community.
Prior to meeting with the PRNC, Governor Brown visited the Aliso Canyon storage facility to examine the state of the crisis and witness the SoCal Gas and state agencies' efforts to stop the gas leak.
Members of the PRNC executive board briefed the Governor on the impacts to the community including the negative health impacts, challenges of relocating during the holidays, security risks to vacant houses, disruption to schools and businesses, financial impacts, worldwide environmental concerns and future safety to the community.
The PRNC is relieved that SoCal Gas is paying for relocation as requested by the PRNC. However, the Council continues to be concerned that multiple government agencies working on this crisis could benefit from a coordinated state oversight effort.
Governor Brown committed to the following requests of the Porter Ranch Neighborhood Council:
Evaluate and consider all options on the safety and future viability of the SoCal Gas Aliso Canyon storage facility, including the possibility of shutting the site down permanently.
Begin briefing the Porter Ranch community daily through emails and website updates on the coordination of all seven state organizations actively working on site.
Hold a town hall meeting hosted by the Governor's Office and future town hall meetings going forward as needed until the crisis has ended.
Feasibility to keep all fines assessed against SoCal Gas in the Porter Ranch community.
Direct the Governor's Office of Emergency Services to have an authoritative voice on declaring the community safe for people after leak is stopped.
Once the leak is finally stopped, the PRNC and the greater community expects a complete investigation along with comprehensive measures and regulation to prevent any such further incident from the remaining 114 wells. For more information about the meeting, visit the Porter Ranch Neighborhood Council webpage.