SoCalGas Clarifies Temporary Relocation Eligibility
February 27, 2016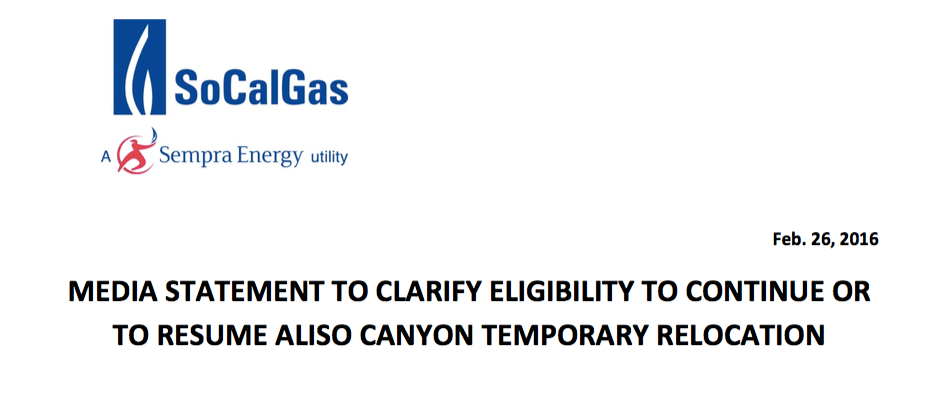 Since capping well SS-25, SoCalGas has changed its temporary relocation policy twice. This has caused confusion for residents who are attempting to determine whether it is safe to go back home.
On Friday February 26, 2016, a day after Judge Berle decided that residents relocated to temporary housing will not be forced to return to their homes, SoCalGas filed an appeal of the Judge's order. The gas giant's official statement read: "We are surprised by the County's sudden shift in policy and disappointed by the judge's decision." The statement went on to state that if "successful in that appeal, residents currently enrolled in temporary housing and those who choose to re-enroll in the program will be given 48 hours' notice to return home." The County and various Plaintiff's counsels have continued to work to ensure Judge Berle's order will stand.
In the interim, SoCalGas has agreed to re-enroll "Any residents who were part of the temporary housing program and checked out of the program between February 18, 2016 (the day the leak was permanently sealed) and February 25, 2016 (the date of yesterday's decision by the court)." All residents will have to complete an online form in order to continue staying in temporary housing.
SoCalGas also stated today, "If rooms are not available for returning residents, SoCalGas will attempt to locate another hotel room as we did under the previous relocation plan" Please contact the relocation mediation line at 818-700-3600 for assistance with locating another hotel room
In hopes of clarifying the specifics of who is eligible for continued relocation assistance and for how long, SoCalGas issued a media advisory.